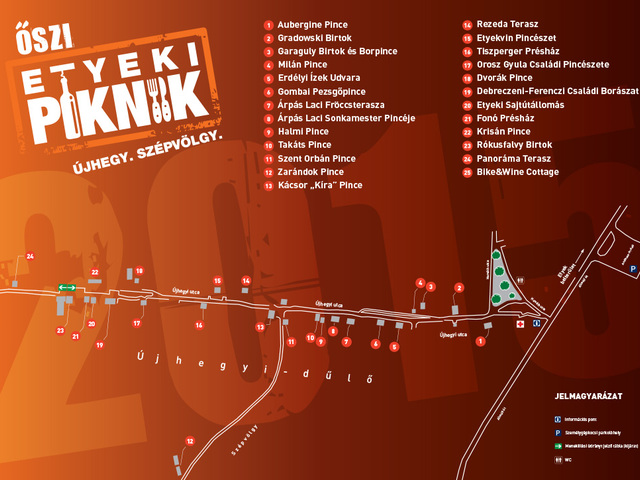 Pleasant wine and cultural weekend in Budapest
On this page I try show details of Autumn Picnic Etyek on 05 and 06 September Saturday and Sunday. Etyek a small city near Budapest. Distance from Budapest until Etyek is cca. 30 km.
Philosophy of Picninc Etyek
Since 2013 the visitors of Etyeki Picnic meet and taste the gourmet treasures of our country and of Etyek four times a year in a more familiar atmosphere Újhegy and Szépvölgy.
We want to present the best Hungarian wines, the best gourmet and artisanal products with a seasonal touch, bringing interesting traditional programs and talented artists to the audience.
Cca. 20 wineries show own wines. It is possible on this event to taste wine, home-made cheeses and further delicacies. More wineries invited the wineries from other wine region, e.g. from Szekszárd, Eger, Villány, Badacsony, etc.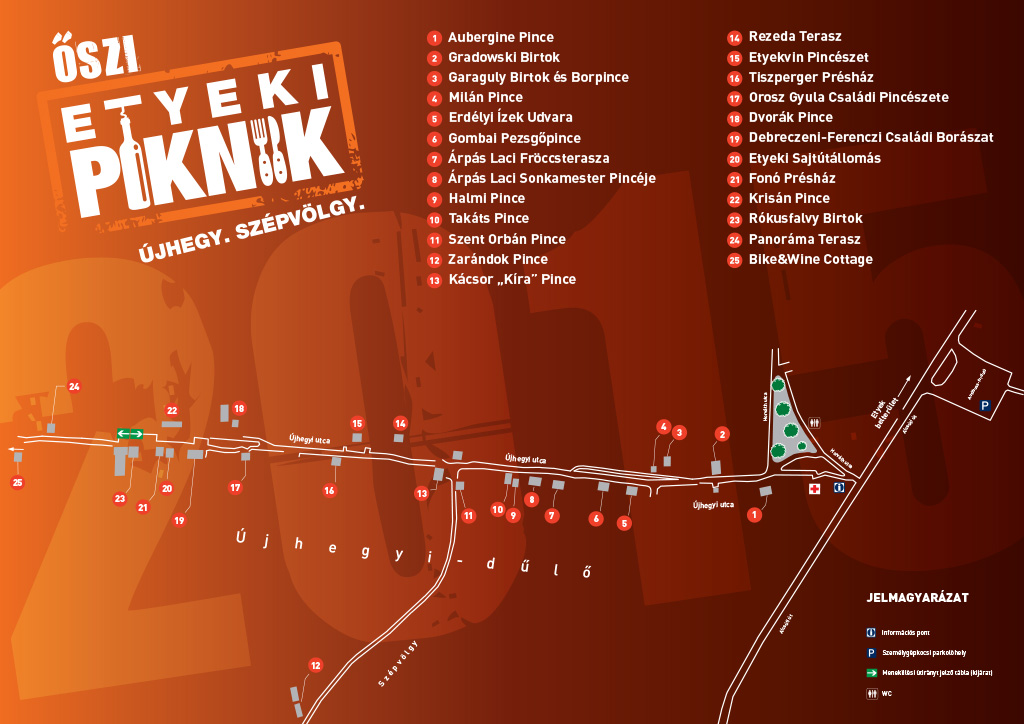 Some interesting gastronomic details
• Cellar Aubergine      - bread with aubergine and 'zakuszka' cream,
                                - deer stew with potato nutcake and catfish stew with homemade pastry
• Cellar Milan - Milan-style rich harvest-time goulash, tripe with trotters, homemade crunchy greaves
                    - home-made honey-creamy and strudel, home-made syrups, jams and Pálinka
• Árpás Laci Ham Master's Cellar - gourmet ham,  grilled food; goney and chilion tasting
• Cellar Halmi - rose and other home-made syrups and cakes, jam tasting and sales, herbs and tea tasting and sales
• Cellar Takáts - bread with mustard-cream and greaves-cream with vegetables,
                       - Etyek-style home-made letcho,
                       - Takáts-style stew, grilled meats pancakes, fruity cakes, home-made syrups and lemonade
• Cellar Szent Orbán - Etyeki "Gezemice" scone
                               - Gingalló Etyek manufactured chocolate
                               - "Valaha Tanya": home-made syrup tasting
• Cellar Kácsor "Kíra" - Goose-greaves cream, home-made ham, grilled sausage, scone with sheep-cheese and home-made strudels
• Cellar Anonym       - manufactured wine ice-cream
                               - special variations of letchos
Some interesting cultural events
•Árpás Laci Ham Master's Cellar - Roma Jazz
• Cellar Anonym        - "CsakBence" plays with his guitar
                               - Lili Péterffy sings
                               - The Stickfigures Band plays
Debreczeni Winery     - Janota Zoltán accordionist, Indian Joe Band, Rock'n'roll concert, Schwab'N'Roll Band
Other interesting programs
• bike & wine cottage – Tour de Etyek
• how to make champagne – presentation, tasting of champagne specialities
• wine-chocolate and wine-jam
• Madzag & Csomó (String & Knot): sailing inspired jewellery for men and women
• panorama belvedere from Angels' Garden
• interactive chocolate making in the workhouse
• STELÁZSI –fine food and kids' programs: story telling, music, drawing, plasticine
• interactive cheese and butter making
• "Pusztabusztúra" – tour around the vineyard by tractor
• "Etyek Czimeres Pálinka" – Pálinka tasting
• cooking contest
• folklore games and manufacturer corner for children

Link of Picnic Etyek is below
http://www.etyekipiknik.hu/index.php/en/
The all programme for whole weekend (03-07 September) can find below link
bit.ly/1LjEaP7

The picture of yesteryear
http://bor-vallalkozas.blog.hu/2014/05/20/borangoltunk_etyeken



Cheers in Etyek
Laszlo Vago
Szólj hozzá